Each week, CPGM writer @itsharristime will be letting you know who to "buy or bye" off the Waiver for your upcoming fantasy week. These are players that are owned in less than 50% of Yahoo leagues. Scoring is based on full point PPR.

And just like that folks, we are onto the double digits in fantasy football. Didn't it seem like yesterday we were just kicking off the season with high hopes of a perfect season? Heading into Week 10, some of us may be scrambling to make it into the fantasy football playoffs. Remember, that on Any Given Sunday, anything is possible. This week, I'll be giving you some volatile plays that could vault you into the playoff mix, and some floor plays that will allow you to continue to run to the championship through a set of 6 Bye Weeks. In either situation, you won't be going down without a fight in critical match-ups in Week 10.
Week 10 will be important for two reasons:
1: Week 10 has the most teams on bye. This includes: Denver Broncos, Houston Texans, Jacksonville Jaguars, New England Patriots, Philadelphia Eagles and Washington. This is a grand total of 6, and will impact fantasy rosters across your league(s). Starting QBs Watson, Brady, Wentz and Minshew will be out. WR1s Sutton, Hopkins, Chark, Edelman, McLaurin and Jeffery will be out. Be mindful of how you approach the waiver wire this week, as there will be many teams that are unprepared for this Bye Week wasteland.
2. Desperation will also be commonplace for fantasy football teams this week. Teams that are 4-5 on the outside of the playoff picture will be hungry for wins. They may stop at nothing to get to .500 and make a strong end of season push.
By taking advantage of the perfect storm created by both of the aforementioned situations, it's time to put your fantasy football GM savvy to the test. There will be desperate owners looking for both a win and bye week fill ins. Wouldn't your spare WR3 that has been a bench warmer for you all season be a nice addition for that DeAndre Hopkins owner? Or what about the Leonard Fournette owner who slept on waivers this week and needs a serviceable RB for Sunday? Wouldn't it makes sense to send one of those high variance 49ers RBs there way for a position of need on your team?

Look for the opportunity this week and be open to make some trades. If you are on the outside looking in for the playoffs, now is the time to strike.
Quarterbacks:
Buy – Derek Carr, 46% Owned, Oakland Raiders
With 6 teams on bye, the options at QB are slim this week. Carr and the Raiders aren't even close to the worst option in Week 10.
Carr has been good this season behind a revamped Raiders line. With new weapons Darren Waller and Tyrell Williams providing Carr with reliable outlets, Carr can be a viable streamer for your team.
He's facing the Chargers at home and will provide a solid floor for fantasy GM's looking for stability during Bye Week Hell. Over the last 3 weeks, Carr has put up weeks of: 16.72 FP, 23.40 FP, and 19.56 FP. I expect this game to hit the over as both teams seek their 5th win of the season.
I'm buying Carr for Week 10, but also looking towards a favorable schedule in the upcoming weeks vs Bengals, Jets and the Chiefs.
Other Quarterbacks I'm Buying on the Waiver Wire –
Daniel Jones, 26% Owned, New York Giants
Ryan Tannehill, 18% Owned, Tennessee Titans
Bye – Andy Dalton, 12% Owned, Cincinnati Bengals
Even though the Bengals have long been the brunt of AFC North jokes courtesy of my Pittsburgh Steelers, I couldn't help but feel bad for the Red Rifle.
On Dalton's 32nd birthday, it was made official he would be benched in Week 10 in favor of 4th round rookie Ryan Finley. That's just cold.
This is a move about 4 years too late from the ultra conservative Bengals organization. Dalton isn't a bad QB, he just isn't good.
Without AJ Green in the lineup, and, early season phenom John Ross III on IR, this team is without legitimate receiving threats. The o-line is ravaged with injuries and is one of the worst units in the NFL. This team just isn't good.
Zac Taylor and Co. want to see what they have in Finley, and, at 0-8 it's probably the right move. But couldn't you have waited until after Andy had his cake?

Bye-bye Red Rifle. We'll see you in Denver or Chicago next year.
Running Backs:

Buy – Ronald Jones II, 40% Owned, Tampa Bay Buccaneers
It's RJII season folks!
The long awaited nod from Bruce Arians to the 2nd year RB has finally come.
Frustratingly underutilized behind plodding yet trusted back Peyton Barber, the time is now for Ronald Jones II. Jones has shown flashes this season in limited use, and came into this season ready to play.
There was a lack of trust from the coaching staff coming into this season because of conditioning issues in his rookie season. It seems that coming into Week 10, Arians and company are ready to hand the reigns over to Jones. And with good reason: he's ranked within the top 10 in the league in yards created per carry.
Keep in mind that Jones has only seen just over 30% of snaps and limited Red Zone usage. Even with this, he's still averaged over 8 FPG. This all changed in Week 9 where Jones saw a 78.3% snap share, and created 16.20 FP.
Now that the training wheels are coming off Jones, and a favorable upcoming schedule, I'm buying Jones where owners got frustrated early on in the season.
Other Running Backs I'm Buying on the Waiver Wire –
Ty Johnson, 40% Owned, Detroit Lions
Derrius Guice, 32% Owned, Washington Redskins
Alexander Mattison, 32% Owned, Minnesota Vikings
Darrell Henderson, 24% Owned, Los Angeles Rams
Bye – Chase Edmonds, 31% Owned, Arizona Cardinals
It was only a few weeks ago that Edmonds was shaping up to be a league winner.
Concerned David Johnson owners and savvy fantasy footballers understood Edmonds talent, and the potential he possessed if an injury prevented DJ from playing. This came to fruition in Week 7 when the RB1 duties were handed to Edmonds and he didn't disappoint. Edmonds put up 126 rushing YDs for 3 TDs and a week winning 35 FP.
Alas, it wasn't meant to be as Edmonds left the Saints game with a fairly significant hamstring injury.
Enter Kenyan Drake at the trade deadline. Drake was able to take advantage of his new situation with starter snaps and did not let down his new teammates. In his Arizona debut vs the tough 49ers run defense, Drake rushed for 110 YDs, 1 TD, 2 PT conversion, and 28.20 FP. With DJ coming back and Drake now on the scene, it will be tough for Edmonds to climb the depth chart once healthy.
I'm waiving bye to Edmonds and ensuring that he is on my draft radar next season.
Wide Receivers:
Buy – Diontae Johnson, 27% Owned, Pittsburgh Steelers
If I was to ask you who the best Steelers receiver has been this season, who would it be?

Statistically, it's still WR1 JuJu Smith-Schuster, but you'd have to take a minute to think about your answer. Which is impressive for the rookie out of Toledo.
What's even more impressive than the production, is how he has done it. Johnson has had 3 different QBs in his rookie season, and have produced with each Steeler QB under center. It's clear through 9 games that when Johnson is targeted he produces. Even with elite coverage by Richard Sherman in Week 3 and Xavien Howard in Week 8, Johnson put up weeks of 14.8 FP and 19.4 FP.
I'm buying Johnson before his ownership goes through the roof with plus match-ups coming up vs Cleveland, Cincinnati and Arizona. Johnson could be a sneaky play vs the Rams in Week 10 depending on who the Rams deem is the true #1 on the Steelers depth chart.
Other Wide Receivers I'm Buying on the Waiver Wire –
Zach Pascal, 20% Owned, Indianapolis Colts
DeVante Parker, 36% Owned, Miami Dolphins
N'Keal Harry, 18% Owned, New England Patriots
AJ Brown, 19% Owned, Tennessee Titans
Corey Davis, 45% Owned, Tennessee Titans
Tre'Quan Smith, 4% Owned, New Orleans Saints
Bye – Nelson Agholor, 17% Owned, Philadelphia Eagles
I get the ownership: an elite QB in Carson Wentz and a passing corps that lacks a true #1.
But really, Agholor at 17%?
Even with DeSean Jackson ruled out for the rest of the season, I don't see Agholor having a place on fantasy rosters. He's had adequate time to show that he is a viable receiving weapon this season, and outside of Weeks 2+3, has failed to do so. Look no further than Week 9 vs Chicago: 8 targets for a paltry 21 YDs and 5.10 FP.
The Eagles have two elite TEs on the roster in Zach Ertz and Dallas Goedert, Alshon Jeffrey is still capable at WR and there is an electric rookie in JJ Arcega-Whiteside waiting in the wings. With the Eagles on Bye for Week 10, there is no need to hold onto Agholor.
Breathe a sigh of relief with me when you finally drop Agholor from your roster. The breakout just isn't going to happen. And this Philly fan and local hero knows it:
Tight Ends:
Buy – OJ Howard, 35% Owned, Tampa Bay Buccaneers
My QB "buy" this week was for the floor. OJ Howard as my TE buy is all about ceiling.
A ceiling that we haven't seen once this season from the uber talented TE. Howard is a beast, and, was considered a surefire breakout for 2019.
It hasn't come to fruition yet under new head coach Bruce Arians. Lack of usage and a nagging hamstring injury has limited Howard in 2019. Is the curse of the Arians TE true? Let's hope not in Week 10.
With ownership dipping and value at an all time low, now is the time to buy Howard. With Cameron Brate and Anthony Auclair both dealing with injuries, the TE depth chart is thin in Tampa. It also just so happens that Howard's hamstring injury is healed and Arians declared he is "ready to roll".
And what better way to roll than against the Arizona Cardinals who ranks 32nd vs the TE in FP allowed?
Howard could produce in a big way vs the Cardinals and I'm buying a Howard breakout in Week 10.
Other Tight Ends I'm Buying on the Waiver Wire:
Mike Gesicki, 4% Owned, Miami Dolphins
Chris Herndon, 30% Owned, New York Jets
Jarred Cook, 40% Owned, New Orleans Saints
Dallas Goedert, 28% Owned, Philadelphia Eagles
Jonnu Smith, 48% Owned, Tennessee Titans
Bye – Absolutely No One. TE Dumpster Fire
It's tough to proclaim a "bye" in TE this week. Unless you are holding onto a notable injured TE, there is no TE that should be dropped this week.
With TEs such as Zach Ertz, Dallas Goedert, Darren Fells and Noah Fant all on bye, the waivers will be thin with TE additions. Hold tight.
Defensive Buy of the Week
Buy – Baltimore Ravens vs Cincinnati Bengals
The Ravens must be licking their chops to lock into the divisional rival Bengals with rookie Ryan Finley under center. Even if veteran Andy Dalton was starting, the Bengals simply can't compete with the Ravens.
Handing the Patriots their first loss of the season in Week 9 and their D/ST putting up 13 FP in the process, the Ravens will be riding high vs the Bengals. Jimmy Smith didn't seem to miss a beat after missing 8 weeks, playing 54 snaps vs the Patriots. Smith's usage should only go up in Week 10, ensuring that Finley's debut will be memorable in the bad kind of way.
With a secondary that boasts Marcus Peters, Marlon Humphrey, Jimmy Smith, and Earl Thomas III, this Ravens defense will eat in Week 10.
Andy Dalton will look back on this game and be happy with the birthday "present" he received from Zac Taylor & Co on his 32nd.
Rainy Day Stash– Andy Isabella, WR, Arizona Cardinals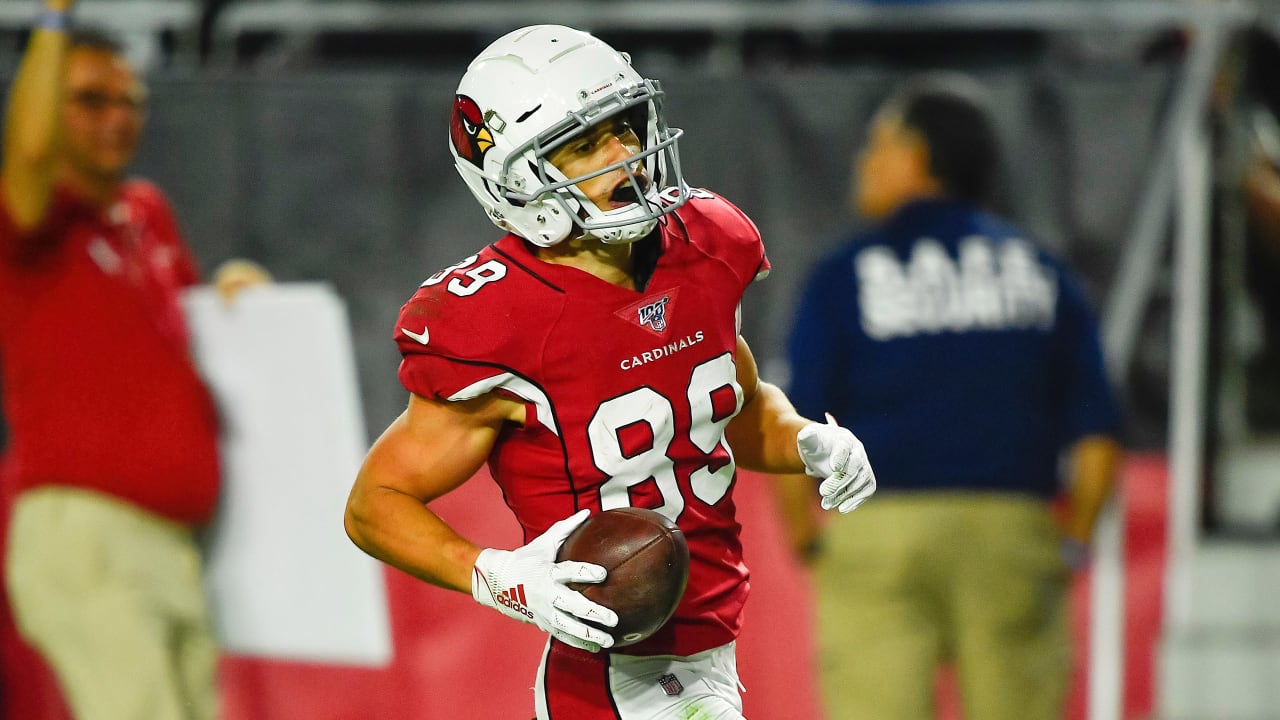 The nicest surprise of Week 9 wasn't all of the left over candy floating around from my daughter's first Halloween. No, it was Andy Isabella finally being added to the mix vs the 49ers in Kliff Kingsbury's "Air Raid" offense.
Isabella's athletic testing is off the charts, performing in the 100th percentile in the 40 (4.31s), and was a dominant college producer. His opportunity so far this season has been strangely limited in Arizona, being used on less than 20% of snaps and used as a situational field stretcher.
In Week 9, Isabella only received 1 target, but made the most of it. Isabella took his one lonely throw to the house for a 88 YD TD and 15.80 FP. I'm not yet ready to proclaim Isabella as a must add, but if you have the space on your roster, there are worse stashes to have given his upside.
Keep an eye on Isabella vs Tampa Bay in Week 10.
For more fantasy content please visit CouchPotatoGM.com
About the Author- @itsharristime is relatively new to the fantasy football scene having spent most of his life watching and playing hockey like a good Canadian. He's making up for lost time by playing big on Draft, FanDuel, and is involved in season long and dynasty leagues on FFPC, Yahoo, ESPN and MyFantasyLeague. Steeler football, family, rock n' roll and keeping things simple.
Seek value and have no player bias=winning formula.
Comments
comments