Each week, CPGM writer itsharristime will be letting you know who to "buy or bye" for your upcoming fantasy week. These are players that are owned in less than 50% of Yahoo leagues. Scoring is based on full point PPR.
What a wild time it has been to start off the NFL season. In Week 3 of this young NFL season we saw 6, that's right, 6 different teams field their second or third string QBs. The results?

Mixed. Daniel Jones put up an impressive performance versus Tampa Bay throwing for 336 yards, 2 TDs and rushing for 28 yards, 2 TDs while putting up an impressive 34.24 fantasy points in his Giants debut. This put him as the QB2 on the day only trailing the seemingly unstoppable Patrick Mahomes. Kyle Allen, Teddy Bridgewater and Mason Rudolph also put up usable fantasy weeks in their respective 2019 starters debut. The same can't be said for Jets 3rd stringer Luke Falk who had to play against the staunch Patriots defense.
It also seems that Minshew Mania is officially a thing. The Jaguars QB has a clear rapport with his WR1 DJ Chark. Minshew has also cemented himself in the Jaguars record book by being only the second Jacksonville QB to get TDs in their first three starts. The other Jags QB? Byron Leftwich.
What a time to be alive. In the words of Bill Belichick, "Onto Week 4".
Quarterbacks:
Buy – Daniel Jones, 17% Owned, New York Giants
Daniel "Danny Dimes" Jones gave life to the Giants offense in Week 3. Defenses could dial in on the Giants game plan previously as they knew that Eli Manning was a zero in the run game and would always be contained to the pocket.
In his debut, Jones made the New York offense look like one from the 21st century. His mobility was a welcome addition to the Giants offense adding 2 rushing TDs in his first game. Eli Manning will be a future HOF'er, but his top rushing season ever was 2 TDs. Jones is here to stay and he unlocked Evan Engram for 23.30 fantasy points and made Sterling Shepard an outside threat with 27.10 points.
With a high ankle sprain taking RB Saquon Barkley off of the field for 4-8 weeks and the impending return of WR Golden Tate in week 5, the arrow is pointing firmly upwards for the New York passing game.

Buy Danny Dimes.
Other Quarterbacks I'm Buying on the Waiver Wire –
Jacoby Brissett, 20% Owned, Indianpolis Colts
Teddy Bridgewater, 6% Owned, New Orleans Saints
Derek Carr, 34% Owned, Oakland Raiders
Mason Rudolph, 12% Owned, Pittsburgh Steelers
Andy Dalton, 19% Owned, Cincinnati Bengals
Bye – Joe Flacco, 7% Owned, Denver Broncos
The collective fantasy world really only needed Week 1 as a sample size to understand that Joe Flacco was not a viable starter. Against an improving, yet, still second rate defense in the Oakland Raiders, Flacco was only able to put up 14.82 fantasy points.
The Broncos are a team that are struggling to find its offensive identity under new OC Rich Scangarello, and haven't been able to unlock rookie TE Noah Fant. Don't let your fantasy team suffer through the growing pains.
Flacco's MVP days are long behind him and there are better QBs for you to stream than hoping for a rebound from Flacco.
Running Backs: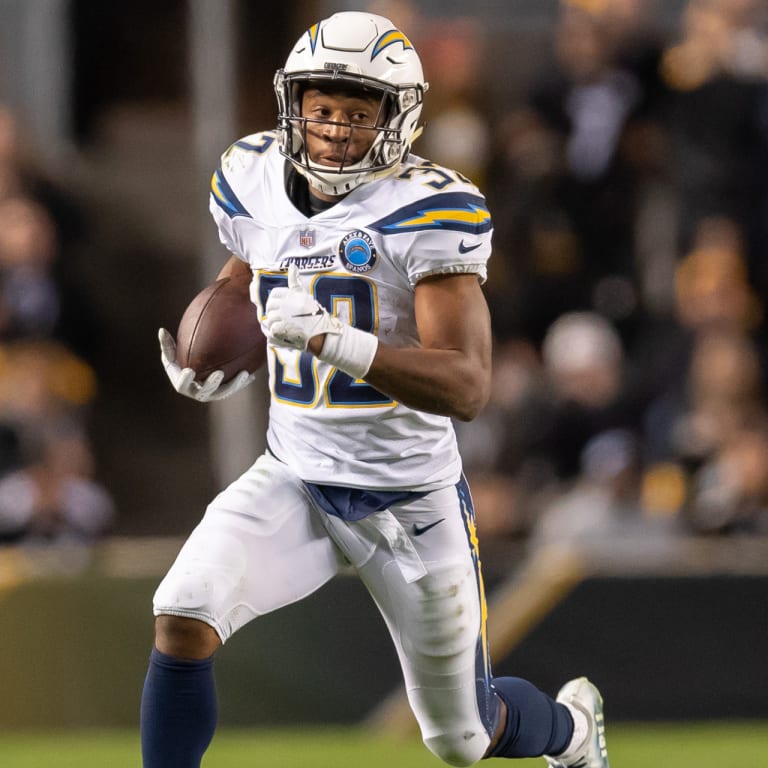 Buy – Justin Jackson, 29% Owned, Los Angeles Chargers
Justin Jackson is now serving in the Austin Ekeler role to none other than Austin Ekeler himself. Meaning that Justin Jackson has been extremely effective with his usage, averaging 7.71 YPC and has caught 6/8 targets thrown his way. The box score is also misleading as Jackson has had two long touchdown runs called back on penalties.
I like Jackson to turn his efficiency into a usable fantasy week versus the lowly Miami Dolphins in Week 4. If anything were to happen to the electric Ekeler, Jackson would be the clear-cut RB1. Buy Jackson for a one week rental and if you enjoy the ride, which I assure you is almost a guarantee versus the Dolphins, hold onto him.
Other Running Backs I'm Buying on the Waiver Wire –
Ronald Jones II, 25% Owned, Tampa Bay Buccaneers
Wayne Gallman, 4% Owned, New York Giants
Jeff Wilson Jr, 4% Owned, San Francisco 49ers
Darrel Williams, 7% Owned, Kansas City Chiefs
Rex Burkhead, 24% Owned, New England Patriots
Brian Hill, 0% Owned, Atlanta Falcons
Bye – Justice Hill, 17% Owned, Baltimore Ravens
This "bye" might be the toughest one to wave good-bye to so far this season. Hill was a bit of a fantasy darling this offseason with many managers hoping for a Kamara North type of situation in his rookie season.
Limited usage and two dominant performances by Mark Ingram have quickly evaporated the thought of an Alvin Kamara like breakout. The logic here is that if Hill was to spell Ingram, it would have been last week in the come from behind game script vs. the Chiefs. Instead of using Hill's game breaking pass catching skills, Harbaugh and Co. leaned in further on veteran Mark Ingram who had a 3 TD day and ended the day as RB2 overall, trailing only who we hoped Justice Hill would be: Alvin Kamara.
Barring some type of injury to Ingram, this is clearly his bell-cow job in Baltimore. I'm waving bye to super prospect Justice Hill in Week 4 and getting Brian Hill as my stash in most leagues.
Wide Receivers: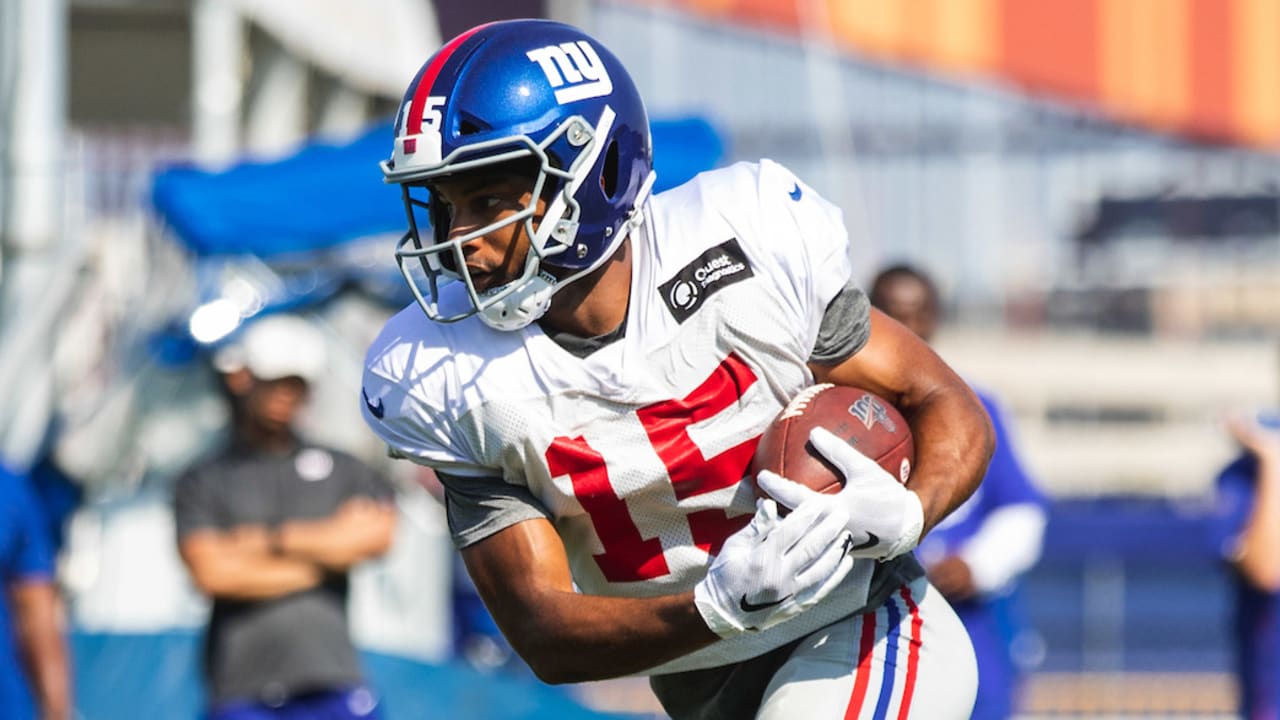 Buy – Golden Tate, 37% Owned, New York Giants
I feel like Golden Tate is the Rodney Dangerfield of WRs in this league, he just can't "get no respect".
Golden Tate is a YAC machine that is extremely durable and consistent. In 2018, even though having to learn a new play book from the Eagles at the end of the season, Tate was #11 in YAC and still produced a solid 12.1 FPPG. I'm expecting Tate to be able to put up numbers similar to his 2017 levels where he was #1 in YAC, and put up over 14 FFPG. With Shepard expected to take his shots on the outside, Tate will be able to operate out of the slot where he has been productive.
With Daniel Jones coming into the fold and revitalizing the Giants offense, I like Tate to be a solid WR2 option week in and week out.
Give Tate some respect and let's get his ownership up over 50%. He'll be coming off suspension in Week 5 and I expect him to start contributing immediately. I'm buying with confidence.
Other Wide Receivers I'm Buying on the Waiver Wire –
Mecole Hardman, 49% Owned, Kansas City Chiefs
DJ Chark Jr., 42% Owned, Jacksonville Jaguars
Deebo Samuel, 32% Owned, San Francisco 49ers
Phillip Dorsett II, 33% Owned, New England Patriots
Kenny Stills, 18% Owned, Houston Texans
Demarcus Robinson, 6% Owned, Kansas City Chiefs
James Washington, 26% Owned, Pittsburgh Steelers
Bye – Corey Davis, Tennessee Titans
Corey Davis has the talent to be a WR1 in the league. That's at least what we've been telling ourselves since the Titans drafted him 5th overall in 2017.
There have been flashes, even this year in Week 2 with an amazing one handed catch.
I don't think this is a Corey Davis problem, I believe it is a Marcus Mariota problem. Mariota simply has been unable to get the ball down the field. Davis has been on the field for over 85% of all of the Titans offensive snaps and has been targeted a total of 12 times over three games. The volume isn't there for Davis at this point.
With A.J Brown also eating into limited targets, it's tough to see Corey Davis at 55% ownership. A change at QB with Ryan Tannehill under center might improve the situation. If the Titans continue to roll with Mariota, Davis is not rosterable with "win now" WRs like DJ Chark, Mecole Hardman and Golden Tate available on waivers. I'm waving bye to Davis until Vrabel and Co realize that Mariota is just simply not getting the job done in this offense.
Tight Ends:
Buy – Demetrius Harris, 1% Owned, Cleveland Browns
At the start of this season, many of us felt that the Tight End Apocalypse of 2018 would never again be repeated. Coming into Week 4, injuries and suspensions has made the situation at TE similarly desperate to what we faced last year.
The Cleveland Browns are feeling the hurt at TE with an injury to starting TE David Njoku. In Week 2 Njoku went down with a concussion and a broken wrist. Timeline for return is unknown. Ouch.
Njoku was favored to be a Red Zone weapon in what was supposed to be a high octane attack in Cleveland. Njoku did seem to fill this role through Week 1 hauling in Cleveland's only passing TD. The high octane part of the equation seems to be absent through 3 games.
The good news for desperate fantasy owners looking for a TE? Demetrius Harris has slid into Njoku's Red Zone role, adding a TD in his first start in Week 3. Harris is virtually being used on all snaps, and will be a TD or bust option going forward. With Freddie Kitchens seemingly having an aversion to using Chubb as a goal line back, or, the lack of goal line appearances makes Harris the Browns defacto Red Zone threat.
I'm buying Harris amidst a shallow pool of options at TE.
Other Tight Ends I'm Buying on the Waiver Wire:
Will Dissly, 46% Owned, Seattle Seahawks
Dawson Knox, 0% Owned, Buffalo Bills
Tyler Eifert, 13% Owned, Cincinnati Bengals
Noah Fant, 11% Owned, Denver Broncos
Bye – Jordon Akins/Darren Fells 0% Owned, Houston Texans
No. It's what smart fantasy players say to chasing last week's production.
Like the drug commercials of the mid-90's, just saying no is the smartest thing on this pair of Texans TEs.
Take a look at the history of the Texans and their TE production. It's sporadic and a system of "next man up". With one of the strongest pass catching corps in the NFL (Hopkins, Fuller, Stills, Coutee, Duke Johnson), I don't see these TEs being weekly contributors.
I'm waving bye to Akins and Fells Week 3 production and adding my "Rainy Day Stash" instead.
Defensive Buy of the Week
Buy – Pittsburgh Steelers vs Cincinnati Bengals
Amidst one of the worst starts in franchise history, a season ending injury to future HOF Ben Roethlisberger, and an inability to establish the run, things look grim on offense. The lone bright spot for the Steelers has been the play from their defense.
It might be through defense that the Steelers are forced to win games. A trade for safety Minkah Fitzpatrick for a 2020 1st rounder to Miami shows that the Steelers have faith in this team and want to win now.
The Steelers defense showed play-making flashes in Week 2 led by rookie LB Devin Bush who forced a fumble that nearly led to a D/ST touchdown. The Steelers pass rush is ever dangerous, and the Steelers blitz is one of the most prolific in the league.
Last week in his debut, Fitzpatrick and the defense forced 5 turnovers vs the 49ers. With AFC North division rivals the Bengals on the slate at home for Monday Night Football, I like the Steeler D/ST to produce a statement game.
The Bengals have given up 12, 7, and 11 points to D/ST through three weeks. It is a safe bet that the Steelers defense will make life tough for Andy Dalton at Heinz Field. I'm confident in buying all the TJ Watt and Co I can in Week 4.
Rainy Day Stash– Chris Herndon, TE, New York Jets
The one thing that we've come to expect about TE over the past two seasons is to expect the unexpected.
I covered the volatility of the position in an article comparing rookie TE's Noah Fant and T.J. Hockenson in the offseason that focused on the production of two breakout rookie TEs: Mark Andrews and Chris Herndon. Both check all of the athletic boxes with strong measurables. Each were used primarily in the slot by their respective teams that led them to break the mold of TEs in their 1st season: they were extremely productive.
Adam Gase has continued to use fill in TE Ryan Griffin on virtually 100% of all snaps. The thinking here is that Griffin is keeping the seat warm for Herndon's return in Week 6. Herndon's athletic ability and strong rapport with Sam Darnold makes him a great stash this Week. Pick him up as a Free Agent this week instead of paying a premium in FAAB or waiver priority next week.
A healthy Darnold and an easier schedule post-bye for the Jets bodes well for the passing game and the return of Herndon. The "Bridge to Herndon" can be completed with the addition of TEs like Greg Olsen, Will Dissly and Jason Witten. Herndon's TE1 production will be well worth it with a "buy" in Week 4.
For more fantasy content please visit CouchPotatoGM.com
About the Author- @itsharristime is relatively new to the fantasy football scene having spent most of his life watching and playing hockey like a good Canadian. He's making up for lost time by playing big on Draft, FanDuel, and is involved in season long and dynasty leagues on FFPC, Yahoo, ESPN and MyFantasyLeague. Steeler football, family, rock n' roll and keeping things simple.
Seek value and have no player bias=winning formula.
Comments
comments